ricky riddlegang and the riddle gang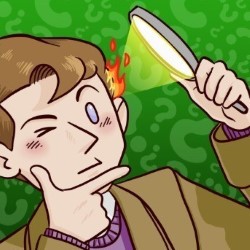 Writer/producer Benjamin Alborough returns to the Edinburgh Fringe with his new play Ricky Riddlegang and the Riddle Gang!
★★★★★ "a masterpiece of comedy" West End Wilma
★★★★ "a top-notch riff on classic farce" Broadway Baby
Meet hip teen detective Ricky Riddlegang and his trusty Riddle Gang: feisty academic Freida, magic-loving Aurora, muscle-man Johnny and talking animal friend Dogford. When Ricky's Uncle Eustace calls on the Gang to look into strange happenings at Riddlegang Manor they unwittingly stumble upon an ancient secret and must face their greatest challenge yet. Spectres, suspects and shenanigans abound as the Gang delve into an enigma that threatens to devour them all...
Written by and starring Brighton native Benjamin Alborough, this is the second instalment of the Cardboard Exotics series, and features a completely cardboard set, in the style of previous acclaimed fringe hit Cream Tea and Incest. Featuring original music by Matthew Farrugia and directed by Olivia Rose Deane, join the Riddle Gang on a nostalgic and hilarious all-American 2D comedy quest, irreverently honouring Saturday morning cartoons of yore!
★★★★ "wonderfully anarchic" FringeReview
★★★★ "the comic timing is spot on in this dynamic and enthusiastic production" London Theatre 1
Ricky Riddlegang and the Riddle Gang will be presented by Peracals Productions at the Edinburgh Fringe 2019, alongside Benjamin Alborough's fringe hit Cream Tea and Incest, which also runs at the Gilded Balloon Rose Theatre Basement. Peracals Productions are an award-winning theatre and film production company. Founded by Jason Fité, the company aim to create innovative and entertaining productions in the UK and internationally.
★★★★ "a marvellous, though bonkers, comedy" The Spy In The Stalls
★★★★ "delectable vintage demeanour" Everything Theatre