IT'll be alt-right on the night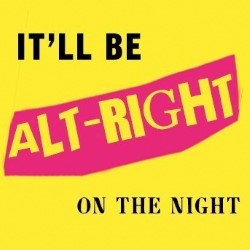 Returning to Edinburgh with a brand new show, Pleasance Theatre associate artists Wound Up Theatre, the team behind critically acclaimed Bismillah! an ISIS Tragicomedy, present the world premier of It'll be Alt-Right on the Night. A story of extreme political polarism - social justice warriors and the rise of the far- right - this new piece of comedic theatre explores the impact of our post-Trump political climate. It examines the experiences of disenfranchised working class men through the story of two Yorkshire scallies - best mates who find themselves on opposite sides of an impassable ideological divide, scored to live jazz renditions of punk rock classics.
"bold and thought-provoking" The Guardian on Bismillah! An ISIS Tragicomedy
Greeny and Stevo grew up punks – squats, dumpster-diving and PVA-glue-spiked hair. But they've changed. No, f*ck that, the world's changed. One's a soyboy, one's a fascist, and, in a world of trigger warnings and snowflakes, conservatism is the new punk rock. With a jazz-punk score and a friendship ending in a Lidl carpark with a punch-up and accusations of Nazism.
Writer and performer Matthew Greenhough grew up in working-class Sheffield, not far from prominent alt-right vlogger Paul Joseph Watson, whose activist videos and contention that "conservatism is the new punk rock" have garnered a cult following. Greenhough and Watson both worked as a cleaner in the early 2010's after the global financial crash left them with limited prospects and Greenhough, a diehard liberal, has many childhood friends who vocally support Tommy Robinson. Matthew asks: "How do two people who's world views have been formed by such similar circumstances end up so politically different? What pushes people towards alt-right fascism – and towards being a liberal warrior? How different are we really? And are those differences insurmountable?"
"it's hard to think of a more topical play (…) an unsparing dissection of friendship" Exeunt
Pleasance Theatre London associates Wound Up Theatre, joined by award-winning producer Sofi Berenger (Metal Rabbit Productions, Les Enfants Terribles) and director Jonny Kelly (Papatango Theatre Company, A Princess Undone at the Park Theatre), produce this world-premier by Matthew Greenhough.
With a track record of creating exciting relevant work, Wound Up produce social and politically aware theatre, discussing seismic issues, through hilarious, bold pieces of theatre – facilitating discussions and challenging ideas. The company's first play, Delusions of Adequacy, explored youth unemployment, and #VILE: The Untimely Demise of a Manufactured Pop Star, exploring the impact of celebrity culture and social media on mental health in working class northern communities, while Bismillah! (a spiritual prequel to Alt-Right) explored extremism as informed by social alienation. This will be Wound Up Theatre's fourth time at the Fringe and their first time performing at Pleasance Edinburgh as associate artists. It'll be Alt-Right on the Night has been developed with the support of Live Theatre, Newcastle, having been was originally commissioned as a work in progress for performance as part of their Elevator Festival.
Wound Up Theatre will also be producing Matthew Greenhough's play Bismillah! An ISIS Tragicomedy (also directed by Jonny Kelly) at the Underbelly Cowgate.