BISMILLAH! AN ISIS TRAGICOMEDY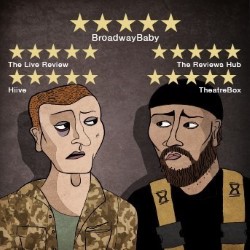 Triumphantly returning to the Edinburgh Fringe since its 2015 premier, this fully reworked production of Wound Up Theatre's Bismillah! An ISIS Tragicomedy had a critically acclaimed run at the 2018 VAULT Festival before embarking on a UK Tour and run at Pleasance Islington. This vital show discusses Islamophobia, social alienation and radicalisation, covering huge contemporary social issues of youth disenfranchisement and rising national tensions. It explores vital issues still prevalent in 2019 – as well as being exceedingly rewarding anyone who knows the lyrics to Bohemian Rhapsody.
"bold and thought-provoking" The Guardian
Dean joined the army, Danny joined the Islamic State. One's from London, the other's from Leeds. Bismillah! is their time together in an Iraqi cell as captive and guard. Trapped, with little hope of escape, they discuss the rising price of a standard meal deal, first loves, the North/South divide and of course the rock band Queen. All whilst circling an awful truth - that they just want to go home. This hilarious and heartbreaking production examines the impact of racial, social, economic and religious politics on youth in society.
★★★★★ "a black comedy of the highest order" The Reviews Hub
Bismillah! stormed the Fringe during its critically acclaimed run at the 2015 Edinburgh Festival. It was listed for the Amnesty International Freedom of Expression Award and has been endorsed by Dr. Sarah Illot, Dr. Anshuman A. Mondal, The Active Change Foundation, Nihal Arthanayake on the BBC Asian Network and BAFTA nominated journalist Sean Langan who was held by the Taliban in 2008. It then ran at the VAULT Festival to rapturous acclaim, garnering exclusively 4 and 5 star reviews and playing to sell-out audiences before a UK Tour and run at the Pleasance Islington.
Writer Matthew Greenhough says: "We couldn't be more excited about bring the show back to Edinburgh with this new production, given that in 2015, this is where it all started! The issues addressed by the show when it was first written four years ago, are sadly as relevent as they ever have been. Shamina Begum demonstrating how in the UK, radicalisation and Islamophobia are still part of the national conversation. We're proud to still be contributing to an essential conversation dialogue."
★★★★ "brimming with insight, humour and humanity" The Stage
Pleasance Theatre London associates Wound Up Theatre, joined by award-winning producer Sofi Berenger (Metal Rabbit Productions, Les Enfants Terribles) and director Jonny Kelly (Papatango Theatre Company, A Princess Undone Park Theatre), produce Matthew Greenhough's script. Wound Up produce social and politically aware theatre, which discusses seismic issues through hilarious, bold pieces of theatre – facilitating discussions and challenging ideas. The company's first play, Delusions of Adequacy, explored youth unemployment, and #VILE: The Untimely Demise of a Manufactured Pop Star, exploring the impact of celebrity culture and social media on mental health in working class Northern communities. This will be Wound Up Theatre's fourth time at the Fringe and their first time performing at Underbelly.
Wound Up Theatre will also be producing Matthew Greenhough's new play It'll be Alt-Right on the Night (also directed by Jonny Kelly) at the Pleasance Courtyard.